Buying used or open boxed items is a great way to save because you get them at huge discounts,
some retailer like Amazon and Walmart have open box items which are still new and you can save between 20 to 70% on some of these items, You can also get some of these items from Ebay, Craiglist and other second hand websites.
Buy used mobile phone from craigslist, Amazon, Ebay and phone shops so you don't have to sign up for 2 years contracts or you buy a New Prepaid Phone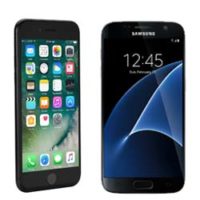 without a contract and go the prepaid route. Most carriers have prepaid plans. some of the best prepaid phone providers out there are Tracfone Straight Talk Family mobile, Cricket, Metro PCS, Verizon, Consumer Cellular and Total Wireless. Just like most of the other prepaid wireless carriers, Straight Talk has monthly, 90 days, 6 months and yearly Straight Talk phone cards, If you do not want a used phone, you can also get a new prepaid phone from the same carriers and retailers

Do your research and compare prices
Do your research and compare prices and features before buying any major items like TV's, a car, dish washers, refrigerator, washer and dryer, stove, furniture etc.
Take advantage of phone apps and websites
Also save money by taking advantage of phone apps and websites that compare price, show you coupons and much more.
Make good use of loyalty programs
Use loyalty programs to get discounts from grocery, department and sporting goods store. There are tons of loyalty programs out there, grocery stores, department store, online stores, gas stations, credit card companies, airlines etc all have loyalty programs that you can use to save money, if you buy from these places regularly then join their loyalty club. remember every dollar counts.
Buy items at the end of the season
Buy your holiday decorations (like lights, bows, Christmas trees and ornaments) the day after the holiday is over (for next year). usually holiday decorations and gift packaging items go on sale 50%. and usually a week or two after that it goes to 75% off. that is great savings for next year.
Swapping babysitting duties
If you have kids and you have good friend and or neighbors who also have kids, Swapping babysitting duties with them is a great way to save money. they can watch your kid(s) for free and you do the same to them when they need help.
Fill your freezer
Fill your freezer with everything you need to create a meal, so that you are not tempted to go out to restaurant or shop often, you can also freeze excess or left over meals and use them on a later date or even take it to work some days or weeks later. that will save you money.
Insulate your water heating tank and hot water pipe
Insulating your hot water pipes and Water heating tank could reduce standby heat losses by 25%–45% and save you about 7%–16% in water heating costs and will help maintain the temperature.
Refinancing your mortgage
One of the biggest way to save money is to Refinancing your mortgage. With the low interest rates now, you can save hundreds of dollars a month if you refinance you mortgage from a high interest rate to a low one.
Save on flights
Save on flights by booking your flight well in advance, in most cases the further away you book your flight, the cheaper it is for you and flights are cheaper on weekdays than weekends, so traveling on weekdays will help put more money into your pocket.
Book your own travel online using all of the discount sites like Booking.com and Cheaptickets instead of a travel agent.
Less Expensive Vacations
Vacation in beautiful but less expensive locations, there are a lot of beautiful but less expensive locations to go to, you can search online, read travel magazines, local magazines and news papers for the location you are interested in. YouTube is also a good source for good place to go on a budget. or go to popular locations at off peak season.




Get Free Internet Security Suite
You can get free internet security suite from you internet provider. Some internet service providers like Comcast provide their customers with free internet security suite, all you need is your username and password to sign into the service providers website. doing this will save you money.