Ads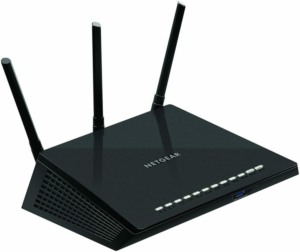 The first impression I got from the NETGEAR Nighthawk AC1750 review was that the NETGEAR Nighthawk AC1750 Smart Dual Band WiFi Router was that it has a very nice slick design, the Speed and Optimum Ease of installation and use. The NETGEAR Nighthawk AC1750 provides great WiFi coverage no matter where I am in my home. At its current price range of between $100 to $150, NETGEAR Nighthawk AC1750
gives you one of  the fastest WiFi currently available & I like they blazing-fast, lag-free WiFi experience for surfing, gaming or video streaming.
It also Maintain high security across my network to help ensure my privacy & that of my family while online.
 Features
AC1750 WiFi—450+1300 Mbps speeds
Dual core processor boosts performance
Advanced features for lag-free gaming
Prioritized bandwidth for streaming videos or music
Much faster surfing of the web with our mobile devices and smooth gaming experience with the game system.
 Performance
The R6700 has very good storage and NAS performance,
Great Wi-Fi performance, I was able to get 5Ghz throughput speed in my home as well as a few feet around my home. At 10 and 20 feet away from my home the Netgear's R6700 Nighthawk router performed better than the first two routers I bought(which I had to return at the store, Its a long story).
The cooling of the router seems to be much better even with 8 gadgets (4 phones, 2 tablets, one game system  and a laptop streaming Movies and playing video games.
NETGEAR Nighthawk AC1750 review Pros: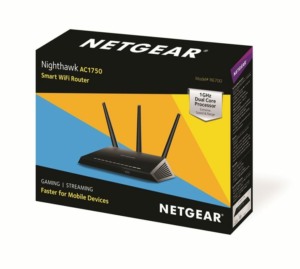 + Very attractive Design
+ Great Range
+ Great 802.11ac Speeds
+ Fast NAS/Storage Performance
+ Easy To Setup
NETGEAR Nighthawk AC1750 review Cons:
– A little Expensive But the price has come down a bit.
Conclusion
Overall, The Netgear's R6700 Nighthawk router has very good storage and NAS performance and the 5Ghz throughput is good for a mid range router. I Love the Netgear's R6700 Nighthawk router because it gives me total monitoring and control over my network. It's very easy to setup. it is the easiest router I have setup so far. So if you're in the market for a new Router at $100 to $120 price range, I recommend the Netgear's R6700 Nighthawk router.
Final Score 8.5
Specifications
Netgear R6700 AC1750 Specifications
Wi-Fi Technology:
802.11ac Dual Band Gigabit
Wi-Fi Performance:
AC1750 (450+1300 Mbps)
Wi-Fi Range:
Very Large Homes
Wi-Fi Band:
Simultaneous dual band 2.4 & 5GHz
Beamforming:
Beamforming+ — Boosts speed, reliability and range of WiFi Connections for 2.4 and 5GHz
Number of Ethernet Ports:
Five (5) 10/100/1000 Mbps—(1 WAN & 4 LAN) Gigabit Ethernet ports
Number of USB Ports:
One (1) USB 3.0 port
Key Features:
– AC1750 WiFi—450+1300 Mbps† speeds
– 1GHz Dual Core Processor
– Advanced features for lag-free gaming
– Prioritized bandwidth for streaming videos or music
– 100% faster for mobile devices
– Beamforming+ improves range and performance for both 2.4 and 5GHz devices
– High powered amplifiers & antennas to extend your WiFi coverage
– Upstream & downstream QoS for best gaming & video streaming experience
– Airtime fairness prevents network lag when slower devices connect
– Free automatic backup software for Windows® PC & Time Machine® compatible for Macs
– Customized free URL to set up personal FTP server
Security:
– Customized free URL to set up personal FTP server
– VPN support—secure remote access
– Guest network access—separate & secure
– WiFi Protected Access® (WPA/WPA2—PSK)
– Double firewall protection (SPI and NAT)
– Denial-of-service (DoS) attack prevention
Physical Specifications:
– Dimensions: 11.22 x 7.26 x 1.97 in (285 x 184.5 x 50 mm)
– Net weight: 1.65 lb (750 g)
Package Contents:
– AC1750 Smart WiFi Router (R6700)
– Ethernet cable
– Quick install guide
– Power adapter, localized to country of sale
Standards:
– One USB 3.0 port
– IEEE® 802.11 b/g/n 2.4GHz
– IEEE® 802.11 a/n/ac 5.0GHz
– Five (5) 10/100/1000 Mbps—(1 WAN & 4 LAN) Gigabit Ethernet ports