Seize The Moment
WFG has a mission: to help people from all walks of life build a better future. WFG business platform has removed the barriers that keep people from pursuing the dream of owning their own business. And our agents prove each day that, by helping people work toward their goals, success just happens. You can be a part of that success. As an independent agent, you are in business for yourself, but you're not on your own.
The WFG business platform offer the tools and resources to help you hit the ground running and build a financial service business that can change the futures of thousands of families and generations to come. this platform coupled with your willingness to learn and determination to succeed, can help you start a new career and own your future.
Start Today To begin your career with WFG, simply register through WFG
• If you are not life licensed, you will need to take the pre-licensing training and then the exam. Earning your license can take from 3-9 months and is required prior to selling products to earn commissions.
• WFG is not a franchise and does not charge any franchise fees. The company's name and logo are available for you to use at no cost.'
• You set your own goals and your own hours. You are in control of your business and your time.
• Not sure if WFG is right for you? Start part time, while keeping the security of your existing job, to see if a WFG business is right for you. Please know that should you determine WFG isn't the right fit, you can request a refund of your application fee anytime within the first 60 days.
If you need someone to hold your hand and help you step by step in the process, click here and I will help you throughout the process until you are comfortable to do it on your own and even after that I and the team will be there on your side.
World Financial Group Insurance Agency, LLC, its subsidiaries and World Financial Group Insurance Agency of Canada Inc. are Transamerica companies. Transamerica companies offer a wide array of retirement, life and health insurance solutions. As an independent business owner, you are backed by the marketing and administrative muscle of WFG's corporate offices and the support of experienced field leaders who have built their own financial services businesses from the ground up all of whom are dedicated to your success. Here are some facts about WFG:
There are more than 43,680 life licensed agents throughout the United States, Puerto Rico and Canada?
More than $845 million in gross commissions was paid in 2019
Securities and investment advisory services in the United States are offered through Transamerica Financial Advisors, Inc.
– Mutual funds are offered in Canada through WFG Securities Inc.
Insurance products in the United States are offered through World Financial Group Insurance Agency, LLC and its subsidiaries and, in Canada, life insurance and
segregated funds are offered through World Financial Group Insurance Agency of Canada Inc.
These companies have agreements with many well-known insurance and financial services companies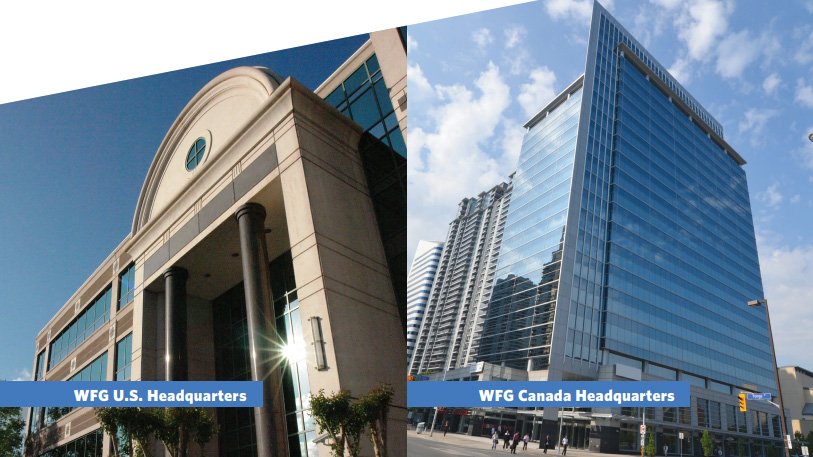 Ads