Seed Starting
Starting Your Garden from Seeds
       More and more people are gardening nowadays, even in cities and apartment buildings. You can Save Money by starting seeds indoors or in a green house instead of buying plants for your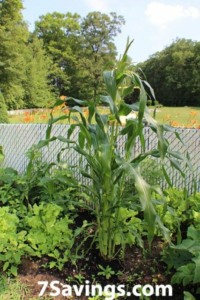 garden, Check out these Videos and tips on how to start your seeds for your garden.
 How to get good plant seeds for next year
   Always choose the best quality plants, flowers, fruits and vegetables from which to save seeds. Look for disease resistance, healthy, great flavor and high productivity organic plants or seeds.
Next year's plants will only be as good as this year's seed.  When the seed pods have dried on the plant (flowers, beans, broccoli, lettuce…) or the plant like Tomato, cucumber, watermelons …) is fully grown and well past their edible stage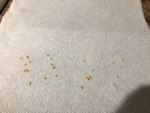 when the seeds are ready to be harvested. 
Break open the plant, pull out the seeds and put them in a clean dry container (if it has a lot of chaff, you can wash it with cold water) and put it in a warm place indoors like the kitchen or sun room or sun dry it outside. Once the seeds are thoroughly dry, it will not rot or mold in storage.
How To Save Pepper Seeds
You can easily buy plants seeds and live plants
from most major retailers and garden centers like Walmart, Home depot, Lowe's and even online retailers like Amazon
, If you really want to save more money buy seeds and plant them a month or two before the regular planting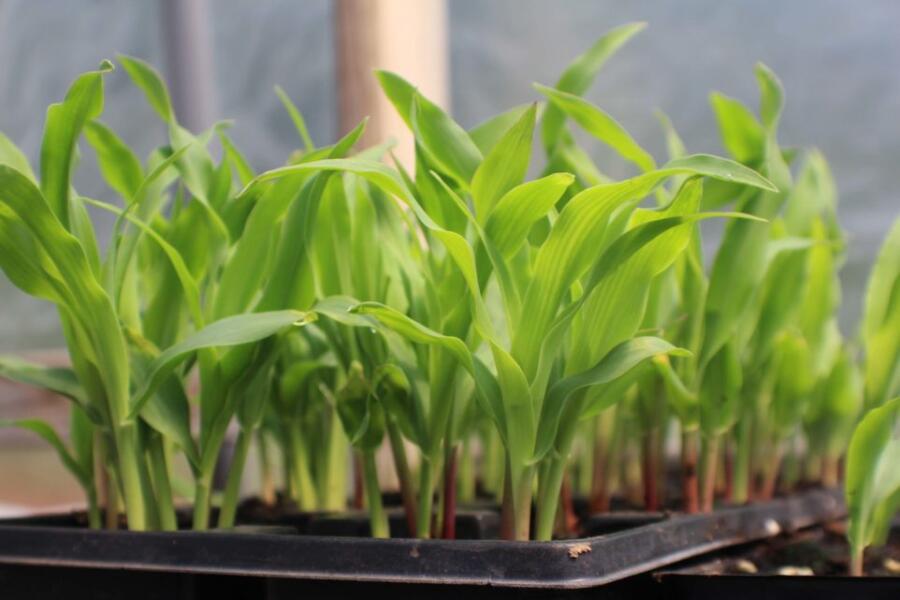 season in your area.
I start my seeds indoors at least two months before the beginning of the planting season, this gives me a longer harvesting period for my plants.
    Visit WinterSown.org to learn how to start your seeds indoors in the winter, and they'll send you six free packets of seeds that are appropriate for winter sowing in your area.
Having your own seedlings from seeds are much more cheaper than buying plants. What is even cheaper is free seeds, you can get free seeds from your garden so you can replant them next year. Save seeds from your favorite plants.
Towards the end of the growing season, I try to prepare for the next growing season by savings seeds. In this video I will show you how to save Pepper seeds for next year. doing this save me money since I don't have to buy the pepper seeds or nursery.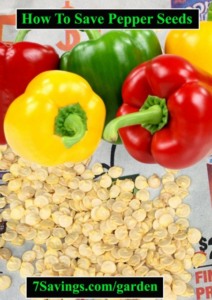 Make sure the seed is thoroughly dry, Remove as much of the chaff as possible, Store in a paper envelope, labeled with the variety and year Place the envelopes into an air tight container, such as a canning jar or storage cans Store in a cool, dark, dry place.
Stored seed is best used the following year. If well stored you can still use some seeds a few years later.
Seeds
saving has become a hobby to some people. There are many organizations that list and share their saved seed. Growing plants from seeds saved from your own garden, will, over the years, result in plants uniquely adapted to your garden.
Where to Buy Garden Seeds
If you did not save garden seeds from last year, you can buy them from you local garden center or online. Here are a list of places you can get garden seeds at a very low price.  
Walmart has a great selection of seeds at you local Walmart garden center or at Walmart.com their seeds prices range from 20 cents to $500. depending on what you are looking for, most of their seeds are below  $5, the expensive ones are garden seed collections  they also have cheap quality seeds from Burpee.com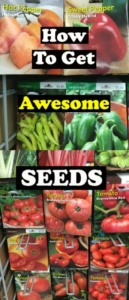 2. Amazon.com also has a great selection of seeds you can order and get them in a couple of days with prime.
3. HomeDeport also has a lot of Variety and a great selection to choose from, you can get it at the store or online at Homedepot.com
3. Burpee.com also has a great selection of seeds you can order and get them in a few of days depending on the shipping option you choose.
4. Lowes  also has a lot of Variety and a great selection to choose from, you can get it at the local garden center or online at  Lowes.com
How to Make the Best Seed Starting Mix
How to Make the Best Seed Starting Mix – Seed starting mix will cost you about $5 per 8 dry quarts if you buy it (Jiffy Natural & Organic Starter )from store or garden center but would cost you less than a $1.50 if you do it yourself. All seed Starting mix and potting mix are often made from perlite and Peat Moss and some organic fertilizer.
Mixture: Mix the following in a container
4 part (cup) Peat Moss
4 part (cup) worm compost (or other great quality compost)
1 Part(cup) perlite 
if you do not have worm compost or want to add any compost to your mix, You can do this
Mix the following in a container
5 part (cup) Peat Moss
1 Part(cup) perlite 
1 table spoon organic fertilizer like Garden tone
You can save money by making your own seed starter mix
, Make your own seed starter
mix by combining equal parts peat moss, vermiculite
 or  perlite and compost. This will give you a lightweight, nutrient-rich mixture that drains well, doesn't dry out quickly and save you a lot of money. You can substitute peat moss with composted wood chips or saw dust, pine bark, leaf mold or ground up newspaper and substitute vermiculite or perlite with a handful of coarse sand.
If you want seedlings that not only grow, but absolutely thrive, this easy mix is for you. The problem with most pre-mixed bags of seed starting medium is that they are peat based (not the best option if you're concerned about the environment) and contain little, if any, nutrition for your growing seedlings. Traditional wisdom says to transplant your seedlings as soon as their first true leaves appear, but who wants to keep messing with seedlings, transplanting more than you have to? Forget it. This soil-less mix contains everything you need to not only get your seedlings off on a good start, but also to keep them growing strong and sturdy.
Basic Seed Starting Mix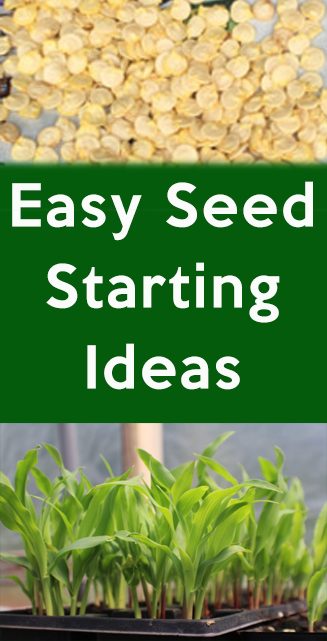 3 cup peat or coir (coir is preferable if you can get it) 3 cup vermicompost (your own or purchased from a garden center or other supplier) 
1 cup perlite       1/2 cup green sand
Mix the first three ingredients together, then sprinkle the green sand into the mix and combine. This ensures that the green sand is evenly distributed throughout the mix.
How to Germinate Seeds Fast (Paper Towel Method)
You can also get an even faster jump on your gardening be using the paper towel method to start your seeds.
How to Germinate Seeds Fast (Paper Towel Method) all you need is paper towel, hydrogen peroxide, zip lock bag(plastic bag), water and the seed you want to plant.
   

Indoor Greenhouse DIY
 

How to Create an Indoor Greenhouse
In the video below, I show you how to create an indoor greenhouse so you can Start plants early (about 6 to 8 weeks) before transplanting to your garden or pots. Start seeds about 4 to 8 weeks before the last frost of the season. And all you really need to create this greenhouse is plastic container, heat mat or germination station and grow lights. 
Make Your own inexpensive Potting Mix
Making your own potting mix will save you a lot of money because it is far cheaper than buy it at the store and you can make it as rich as you want base on what you are planting and you resource like Worm compost or organic rich compost, perlite or sand and many more.
You need Peat Moss, Perlite and Compost or Vermiculite