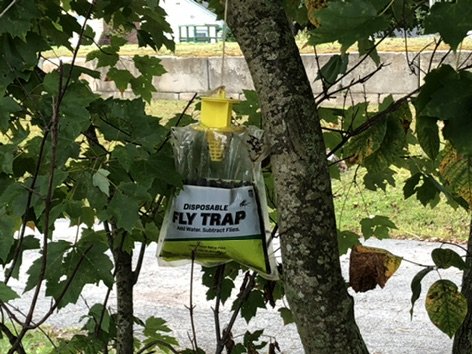 This post contains affiliate links. If you purchase a product or service with the links that I provide I may receive a small commission. There is no additional charge to you! Thank you for supporting 7Savings.com so I can continue to provide you free content each week! You guys are amazing!
Do you have a fly problem in you yard or your patio? If so then this product I am reviewing will help you eliminate those pesty flies. Read and watch the video below on this  great Outdoor fly pest control traps.
The Best Outdoor fly pest control traps –  Review of Disposable fly trap. I have tried a few other outdoor fly traps and I can say this one was the best. For instance, it lasted longer than stated on the package.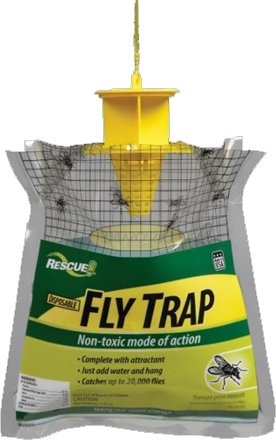 This Outdoor fly pest control trap is very simple to set up and all you need to do is cut a hole, add water and hang it outside. put it away from the house so it pulls all the flies away from the house.
Watch the Video below to see how it works.
Pros
Durability – This disposable fly trap is supposed to last one month, I let it go for more than 2 months and it was still working as a result I caught a lot more flies.
Effective – It worked as stated, it caught more than 20, 000 flies in 2 months.
Easy to set up –  The rescue fly trap I tried was very easy to setup, just cut a hole, add water and tie a string and hang it. eventhough they could have made cutting the hole a little easier by perforating it  so you just have to pull it off.
The fly trap is Cheap –  With the price tag of $4.87 at Walmart,  It is very cheap especially as it continues to work after two months.
Con
It stinks –  I know the only con I have on it is that it stinks, which means try not to put it close to the house or close any where there is traffic like entrance or patio area.
I know the reason why it works so well is that that smell attracks the flies. So I recommend you put it about  30 feet from the house or patio area.
Overall I am giving it a 4.5 out of 5 because of the smell which restric you where to put it and a little difficulty cutting the hole.
In conclusion I recommend you try the fly pest control trap and you would be glad you did because in review this product I was able to drastically reduce the number of flies in my home compare to last summer.
Get Outdoor fly pest control traps at Walmart  or Get Outdoor fly pest control traps at Amazon
checkout the pictures below, The one on the left is empty and the one on the right is full with more than 20,000 flies.