Top Gardening Books
These are My top gardening books. If you are a beginner or an expert gardener, You can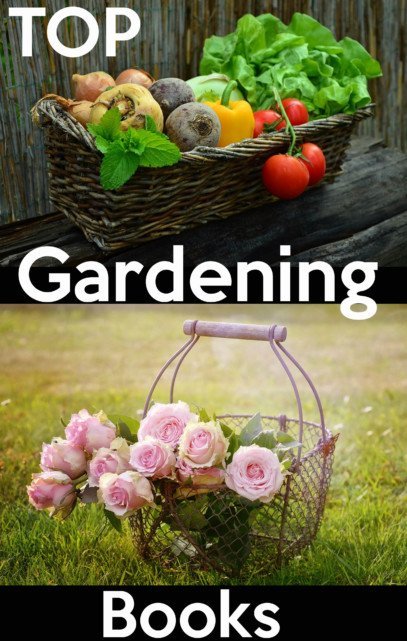 definitely learn more about gardening (how to grow specific plants) and how to solve common garden issues from these authors.
These top gardening books can help you understand more about the gardening process and help you grow as a gardener.  Even someone like who has been gardening for decades can still learn different ways to grow plants and flowers and different ways to reduce or eliminate pest in the garden.
Different plants have different ways of planting, growing and harvesting and you will only get the best result if you provide conditions (when and where to plant)  and resources (good seeds, fertile soil, water and sunlight).
some of these books provide great information for small space gardens, urban farming, indoor and greenhouse farming.
A Compendium of Hundreds of Eco-Friendly,  Creatively Frugal Gardening How-Tos, Remedies & Tips
Whether you're a novice or well-seasoned gardening enthusiast, I've put together a how-to guide that is brimming over with hundreds of creative ways to save money in all aspects of caring and tending for your the garden. I've also made sure to keep an emphasis on providing environmentally friendly and non-toxic gardening techniques, methods and procedures throughout the book.
$

10.95
In this information packed book you will be shown how to become a more successful and eco-conscious gardener while saving lots of money at the same time. The readers of my book will benefit from my years and years of extensive research on gardening techniques; from my participation in Master Gardener training; from my continuing attendance in a multitude of gardening workshops; and of course from my love for reading lots of gardening related articles and books.
Everything I've written about in The Shoestring Gardener has been pre-tested by me – through trial and error in my own garden. Believe me … I am constantly on the lookout for new ways, ideas and methods to find simple and easy solutions to my gardening problems. And I've passed these on in The Shoestring Gardener.
My focus is always geared towards finding new ways to have the healthiest, happiest flowers and veggies possible while using only non-toxic, environmentally friendly methods. I also like to see if I can discover a way to streamline a gardening task or chore so that I don't have to put in as much back-breaking effort as is sometimes necessary!
Anyone of Any Age or Skill Level Can Start Putting the Information in this Book to Use Today!