Building a Cheap Seed Starting Rack for Plants
It is Winter Now in the Northeast with Snow and very cold weather outside so I decided on Building a Cheap Seed Starting Rack for Plants. I have a few tropical plants that I am trying to maintain during the winter and I am also going to use the rack to start seeds when the time comes (That is in a couple of weeks).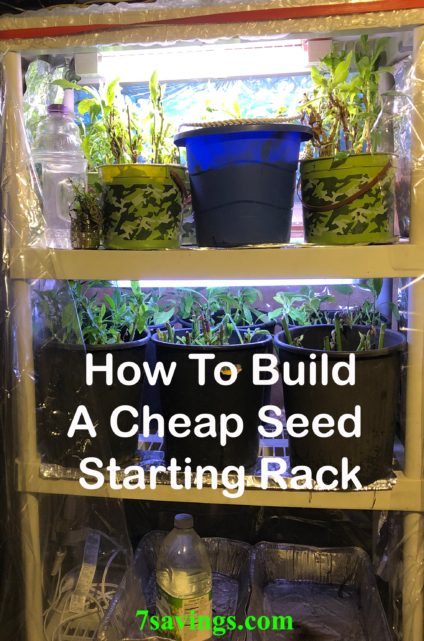 This post contains affiliate links. If you purchase a product or service with the links that I provide I may receive a small commission. There is no additional charge to you! Thank you for supporting 7Savings.com so I can continue to provide you free content each week! You guys are amazing!
Building a Cheap Seed Starting Rack for Plants
You can save a lot of money by starting your seeds indoors a couple of weeks or months indoors instead of buying plants for you garden. The average price of a pack of organic seeds are about 3.97 which will give you more than 20 seeds. but that $3.97 will only but 1 to 3 plants to plant in your garden.
So starting your seeds will save you money and also give you a head start on your plants.  I usually start my pepper seeds about 2 Months before the start of the season. Store bought good seed starting racks cost at least $299 but you can make one for under $100 if you don't mine getting you hands dirty and trying new things (DIY Do it Yourself and save money). With a diy project like this you can customize it the way you want and with the items you want. all up to you.  Here is how I made an easy affordable seed starting rack.
You can buy a shelf or you can us any shelf you have. I bought mine at Walmart for about $40 a couple of years ago. I was using it for dry food storage then converted it for this project. 
You'll need about three or four grow lights depending on how many shelves you want to grow on. I paid about $20.00 for each of mine when they were on clearance at a local Walmart but you can get any other growlights. You can now get something cheaper, checkout my post on the cheapest led grow lights where you can get led grow lights for as low as $8.
Some grow lights come with hooks, if yours does not come with a hook, you can buy hooks or use zip ties to secure your grow light to the shelf.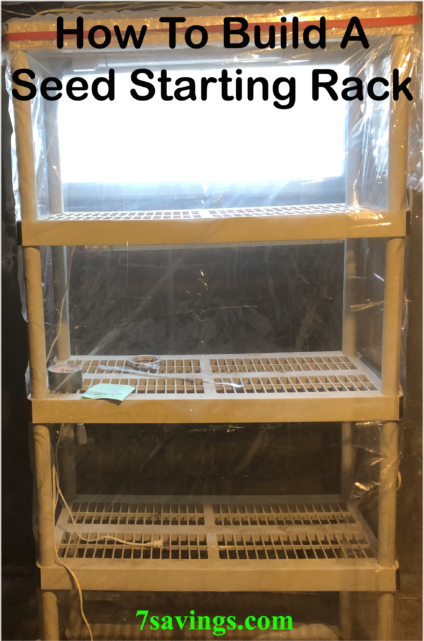 use plastic film or plastic to cover the shelf so that it maintains the heat inside. First apply double sided tape on all three sides of the shelf (except the front)
Cover all three sides (except the front) with the plastic film. on the front side, put double sided tape on the left side  and Velcro on the right side.
Place the power chord plug into an electric timer for lights. If you are like me and have a busy schedule, having to remember to turn the lights on and off everyday is a pain then install the timer. It cost about $9.00. set the timer to simulate the sun, most plants need at least 8 hours but seeds need more like 12 to 18 hours at the beginning so that the seeds are not leggy. the lights need to be about 4 to 6 inches to the  seedlings so that they get enough light to grow.   In the winter I use it to continue growing my plants inside and toward the end of winter and beginning of spring I use it to start my seeds indoors.
Cheap Seed Starting Rack with tropical plants
Thanks for reading and watching, be sure to share this info with your friends and family using the social share buttons on the right . See you on the next article.
Gardman R687 4-Tier Mini Greenhouse, 27" Long x 18" Wide x 63" High
9 new from $59.82

as of September 26, 2023 3:36 am
Features
Ideal for small backyards or homes where space is an issue; place on a deck, patio, or balcony
Gives seeds, seedlings, and young plants an early start
Clear polyethylene cover and roll-up zippered door for easy access
Strong push fit tubular steel frame assembles in minutes without any tools
27" Long x 18" Wide x 63" High
Home-Complete Walk-in Greenhouse- Indoor Outdoor with 8 Sturdy Shelves-Grow Plants, Seedlings, Herbs, or Flowers in Any Season-Gardening Rack
3 new from $87.95
8 used from $64.10
Free shipping
as of September 26, 2023 3:36 am
Features
8 DURABLE SHELVES- The 8 sturdy shelves provide plenty of room for trays, pots, or planters of anything you want to grow. It's a convenient option for any gardener!
INDOOR OUTDOOR- This versatile greenhouse is ideal for both indoor and outdoor use; keep it on your backyard patio, deck, or in the basement or garage! The clear PVC cover helps protect seedlings from frost or pests for an ideal growing environment.
EASY ASSEMBLY- With no tools required, the greenhouse is easy to assemble! Simply follow the included instructions and connect the rods. Rope and anchors are included for stability, and each shelf comes with zip ties to ensure they can't be tipped over.
USE IN ALL SEASONS- The walk-in greenhouse is the perfect way to extend your growing season! This home gardening essential is great for plants, seeds, herbs, vegetables, or flowers, and it could also be used to hold supplies.
PRODUCT DETAILS- Materials: Steel frame and PVC cover. Dimensions: (L)56.3"x (W)56.3"x (H)76.7". Color: Green with clear cover. Rope, anchors, and zip ties included.
Indoor Grow Light, 3-Tier Stand SunLite Light Garden With Plant Trays
as of September 26, 2023 3:36 am
Features
PRODUCT DETAILS: Gardener's Supply Indoor Greenhouse Plant Grow Light System Set The frame is made from 100% heavy duty powder coated aluminum steel with movable caster wheels for flexibility and easy maneuvering. Comes with three watertight shelf trays and two light fixtures; each holds three 4 foot, full-spectrum T5 fluorescent bulbs which showcase the natural beauty of our indoor garden.
BEST USE FOR: Indoor Plant Gardening and Herb Succulent Growing Our Vermont-made SunLite Gardens give your Plants the quality and intensity of light they need, and this 3-tier model has plenty of room for a variety of Plants. You can start seeds, grow herbs and houseplants, or even try your hand at growing orchids
HIGH QUALITY BUILT: Gardeners Supply Company EXCLUSIVE - MADE IN THE USA. MEASUREMENTS: -Frame Size: 51" L x 14-5/8" W x 68-1/2" H - Made with Rugged powder-Coated Aluminum frame that is sturdy enough with large room to grow your potted and aerogarden Plants. -Each fixture holds two 4' long, full-spectrum T5 fluorescent bulbs and can be easily adjust to the proper height for optimal plant growth. -Includes three watertight shelf trays to protect your floors from water and soil spillage
VERSATILE AND EASY MANEUVERING: Our Grow Light Plant Stand System is specially design for versatility and Easy Access for our Indoor Garden needs. With its movable caster wheels, it is easier to maneuver the plant shelf and clean underneath or behind it without moving all the Plants one-by-one. Also, it adds elagance to our home interior design promoting clean oxygen inside the house.
INDOOR GARDEN TESTED & GUARANTEED: Every purchase you make is 100% guaranteed. We will exchange or refund your purchase for any product that is not what you expected or does not work as described during its lifetime.
Jump Start,CK64050 Germination Station w/UL Listed Heat Mat, Tray, 72-Cell Pack, and 2" Dome
22 new from $36.62
Free shipping
as of September 26, 2023 3:36 am
Features
UL-listed waterproof heat mat, 17 Watts, 120 Volt, 8.875" x 19.5"
2" humidity dome
11" x 22" watertight base tray
72-cell seedling insert
Includes instructions with growing tips
Ohuhu Mini Greenhouse, Small Plant Greenhouses, 4 Tier Rack Stands Portable Garden Green House for Outdoor & Indoor, 27" Long x 18" Wide x 63" High
out of stock
as of September 26, 2023 3:36 am
Features
| | |
| --- | --- |
| Brand | Ohuhu |
| Color | Green |
| Label | Ohuhu |
| Manufacturer | Ohuhu |
| MPN | Y11-89000-11 |
| Package Dimensions | Height: 350; Length: 2800; Weight: 1200; Width: 1900 |
| Part Number | Y11-89000-11 |
| Product Group | Lawn & Patio |
| Product Type Name | OUTDOOR_LIVING |
| Publisher | Ohuhu |
| Size | 4 Tier Rack |
| Studio | Ohuhu |
| Title | Ohuhu Mini Greenhouse, Small Plant Greenhouses, 4 Tier Rack Stands Portable Garden Green House for Outdoor & Indoor, 27" Long x 18" Wide x 63" High |
Burpee Home Professional Two Tier Grow Light | Two Wide Spectrum Bulbs | For Indoor Growing and Seed Starting
out of stock
as of September 26, 2023 3:36 am
Features
GROW INDOORS: Burpee Two-Tier Grow Light is a compact, lightweight unit that takes up little space but doubles your indoor plant production with two complete trays of growing space! Use on many different types of plants.
FLUORESCENT LIGHT: Each tier comes with a 22" X 11" plant shelf tray and a fully adjustable light box, complete with two 20-watt wide-spectrum bulbs to fuel strong plant growth indoors.
CONVENIENT SIZE: Entire plant light growing system comes in an easy-to-move cart measuring only 40" High x 27" Wide by 12" Deep. Great for seed starting or house plant. Minimal assembly required. Made in the USA.
PLANT LIGHT TIP: When growing seedlings, leave the lights on for 16 hours and off for 8 hours, keeping the grow lights 3-4" above the plants. Adjust the light height as the seedlings grow, ensuring that they have enough space and get ample light.
Burpee is committed to the success of all gardeners. We treat each order with care to ensure healthy seeds, plants and gardening supplies are sent in excellent condition. If you are unsatisfied with your purchase, we aim to make it right!