The above video shows you how to heat your seed starting greenhouse at the beginning of the year.
This post contains affiliate links. If you purchase a product or service with the links that I provide I may receive a small commission. There is no additional charge to you! Thank you for supporting 7Savings.com so I can continue to provide you free content each week! You guys are amazing!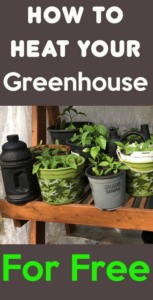 How to heat your greenhouse for free
How to heat your greenhouse for free. In cooler climate up north where I live my greenhouse  allows me to extend my outdoor growing season by several months by using water jugs or barrels for thermal mass, I use heater as a backup for very cool nights. I use to have to wait until May after last frost to grow outside and my plants are usually dead by early October. After building this greenhouse,  I able to start seedlings in the greenhouse in late February or early march and the extra warmth & protection the greenhouse provides makes the plants grow stronger, healthier and more bountiful, I am able to transplant bigger healthier seedlings in to my garden and grow some of the vegetables in the greenhouse all season long. I am able to extend my growing season to late October or beginning of November depending on the how soon the intense cold weather arrives.
What you Need
Empty Milk jugs or any other gallon or more container

Buckets, Drums or rain Barrels.
Water(Tap or rain water)
If the container is black then skip the next step
Next You want to buy or use any black Fast dry spray paint you have at home and spray the container, You can still use the containers without spray painting but spray painting thems helps the container absorbs more heat so it can release it at night. The spay paint I use Was like $1.66 at Walmart You can paint about 5 to 10 containers  depending on the size of the container.
If the containers don't have lids and you think the standing water might attack mosquito's, Add the equivalent of a table spoon of Bleach to a gallon of water to prevent mosquito's or other flies from nesting on the water (if you add bleach to your container please do not use that water to water your plants)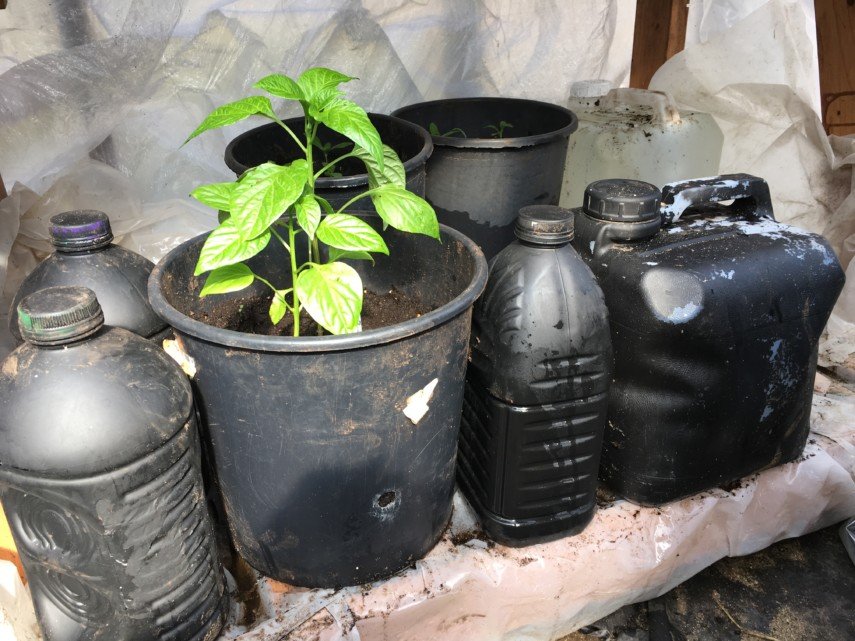 Tip: The lager the container the more heat it will be able to store.
Heating a Greenhouse
My backup for Heating a Greenhouse is a programmable space heater, I set the temperature on the Heater to about 45 degrees, The heater only comes on when the temperature goes below 45 degrees, this ensures that my plants are safe from frost on those very cold nights. in order to ensure that i am not wasting energy, I make sure  completely seal the greenhouse and inside I cover the plants with another layer of plastic sheets (this provides a sort of double layer insulation).
Hope this helps you, If you have a better method I and other readers might learn from please leave the information in the comments below. Thanks