DIY Greenhouse Shelf Plans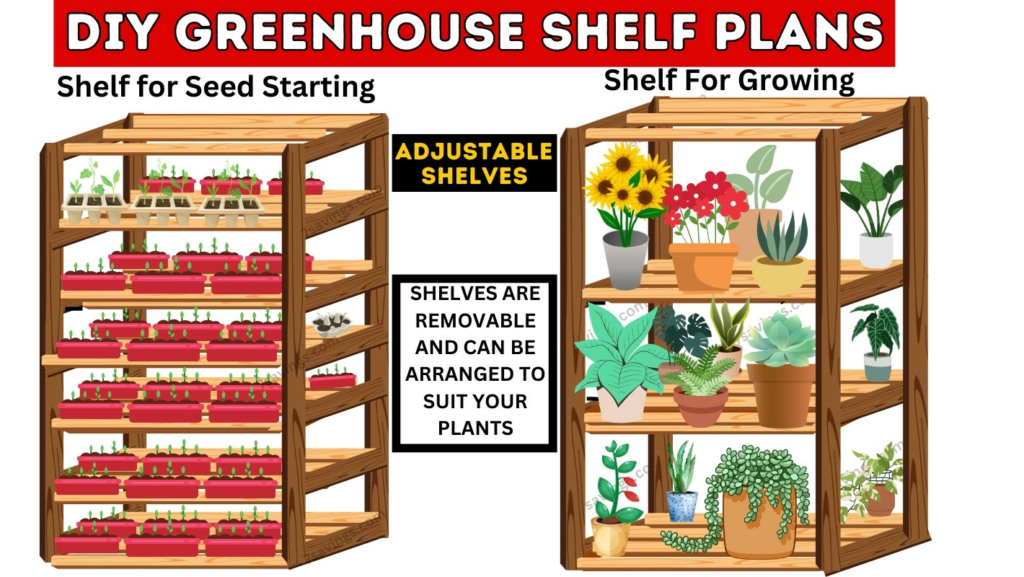 Transform your greenhouse into a productive and stunning oasis with an Adjustable DIY Greenhouse Shelf Plan. Maximize growing space, enjoy easy organization, and create an attractive display of your plants. You will get the seed starting shelf plan and the mature plants' shelf plan. The shelf can be made using 2×2 and 2×4 standard materials. Greenhouse staging plans, The shelve is 6ft high, 4ft long, and 2ft" wide. this is a very easy project to do with step-by-step instructions that include pictures and video.
Whether you are a gardener, grower, homesteader, or a DIY enthusiast, make this simple greenhouse staging from standard materials. Fully illustrated, step-by-step assembly instructions for you to download.
WHY BUY THESE PLANS?
These are more than just plans. Here you will get;
• a full material cutting list.
• step by step instructions for the build
• Fully dimensioned views of the finished item.
A video with step-by-step instructions
Tips on how you can get your lumber for more than 65% off
You can make these for much less than what you would pay at the store: much better quality and adjustable to suit your needs.
• I provide quick customer service, usually responding to inquiries within minutes and so if you require any assistance, I am here to help. I aim for 100% customer satisfaction!
These shelves are simple to make and will save you money compared to ready-made. All materials are standard sizes and the build requires no special tools or skills.
WHAT WILL YOU RECEIVE?
• This item is a digital document for download. The document format is pdf (Adobe, PDF).
• 15 pages of assembly instructions mostly pictures. Download contains 2 PDF files: one for seed starting and the other for growing. if you intend to use it for seed starting and growing then use the seed starting plan, but if you intend to use it only for growing then use the growing plan. if you do the growing and you change your mind later you can add more shelves to do seed starting. You will receive both plans.
DESCRIPTION OF STAGING & POTTING shelf
This shelf will fit perfectly into most greenhouses. For larger greenhouses, you can join successive units together as you will see in the picture of my greenhouse. The individual shelves are removable and you can arrange them as you need to suit your plants. Each unit measures approximately 48″ long, by 24″ deep and 72″ tall. So these units can hold up to 20 seed trays.
I made these from 2×2 and 2×4 lumber.
YES, YOU CAN BUILD IT! I built mine in less than 24 hours.
This project is aimed at the home DIY enthusiast, no particular skillset required although you will need some basic skills such as cutting the materials to the required length and assembly. No special skills or tools are required other than a saw, a tape measure, a drill, and a screwdriver. If you don't have a saw just hold your dimensions when you go buy the lumber they will cut it for you.